Le DERNIER SHOW avant Wrestlemania. C'est quelque chose ! Nous sommes donc en Suède, pour la dernière étape avant WLW Wrestlamania. Les affrontements seront en ébullition et personne ne souhaite se blesser, si près du but. Quoi qu'il arrive, nous allons avoir un Show d'énorme qualité ce soir.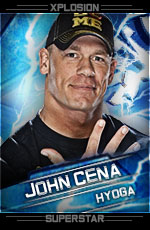 VS

VS

 VS


VS 

 VS

 VS

VS

VS

VS



Le Joker Sting est un sadique. Il mets un Champion Vs Champion Match en début du show, mais, en plus, Sheamus partira avec Drew Galloway en tant que Manager. Pourquoi ? Veut t'il vraiment que Sheamus trahisse John Cena et le blesse avant le plus grand PPV de l'année ? Nous aurons ensuite trois 1 contre 1 classique pour que les lutteurs gardent de la compétition avant Wrestlemania. Finn Balor affrontera CM Punk, Kevin Owens affrontera l'Undertaker tandis que Randy Orton fera face a Kane! JBL sera seul cette semaine, une fois de plus, vu que son meilleur employé continue la lutte pour le WLW Championship. Il affrontera Dolph Ziggler, qui aura comme Manager, le Hurricane dans son coin. Ensuite, nous aurons un match qui pourra peut-être rester dans les annales, puisqu'il s'agit peut-être du dernier match de l'histoire a Xplosion pour DDP'. Si il venais a perdre a Wrestlemania, sa carrière serait terminée. Nous avons ensuite le Rated "R" Challenge. A chaque fois, Edge et le Big Show vont accompagner leurs choix sur le ring. Le Big Show a ainsi choisi Alberto El Patron, Jeff Hardy & Wade Barrett. Edge, a été fourbe, comme a son habitude puisqu'il as choisi un membre du Financial Power pour le défendre. Dean Ambrose devra donc se frotter a El Patron. Pour les deux choix restants, il est même allez plus loin en prenant ses deux anciens frères en la personne du Shield! Ces 3 combats s'annoncent épiques. Le premier a deux victoires pourra choisir la stipulation pour WLW Wrestlemania 7. Finalement, en Main Event, nous aurons un combat a 6 lutteuses. Les femmes sont pour la première fois dans un Main Event. Lita lutera dans ce match. La gagnante ira a Wrestlemania affronter Lita pour le Women's Championship, et si Lita gagne ce soir, elle pourra choisir l'adversaire de son choix, pour le PPV, parmis tout le roster de la WLW, même pour repécher quelqu'un qui aura perdu au premier tour. Son choix sera total!
»»»»»»»»»»»»»»»»»»»»»»»»»»»»»»»»»»»»««««««««««««««««««««««««««««««««««««««
John Cena VS Drew Galloway With Sheamus => SINGLE MATCH WITH MANAGER
Finn Balor Vs CM Punk » SINGLE MATCH
Kevin Owens Vs The Undertaker » SINGLE MATCH
Kane Vs Randy Orton » SINGLE MATCH
JBL Vs Dolph Ziggler With The Hurricane => SINGLE MATCH WITH MANAGER
AJ Styles Vs DDP' => SINGLE MATCH
Alberto El Patron With The Big Show Vs Dean Ambrose With Edge » SINGLE MATCH WITH MANAGER => Rated "R" Challenger
Jeff Hardy With The Big Show Vs Seth Rollins With Edge » SINGLE MATCH WITH MANAGER => Rated "R" Challenger
Wade Barrett With The Big Show Vs Roman Reigns With Edge » SINGLE MATCH WITH MANAGER => Rated "R" Challenger
WLW Womens Final » SIX WAY MATCH => Si Lita gagne, elle choisis qui elle veut pour le match a Wrestlemania, et si une des femmes gagne, elle ira a Wrestlemania contre Lita.
Les matchs de BigBro' sont en
BLEU
. Les matchs de Nero sont en
ROUGE
. Merci, et bonne chance tout le monde!